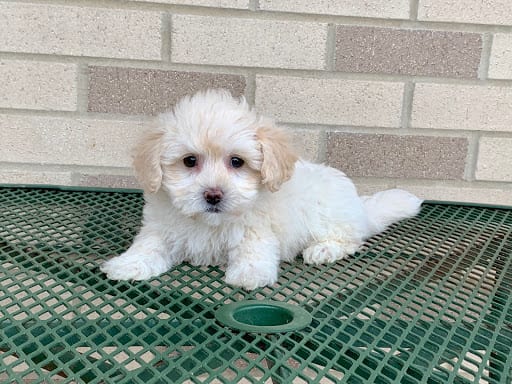 From house training to crate training to basic commands—your Coton de Tulear puppy has a lot to learn. That's where you come in!
Training a new puppy and introducing them to the world is a big responsibility, but—we think you're up for the challenge.
As experts (and lovers!) of Coton de Tulear puppies, we have a few tricks of the trade to share.
Here are our top puppy training tips for Coton de Tulear puppies:
1. Start puppy training early
In order to start off on the right foot, you need to start training your pup almost immediately after bringing him home.
Yes, you should allow them some space to get acquainted with their new surroundings, but also show them where they should go to the bathroom and begin to enforce house rules.
2. Puppy socialization is key
Your Coton de Tulear puppy will need to interact with other pups in order to remain social and positive. This will also help them become acclimated with other dogs and people, which will come in handy when you have guests over and puppy play dates.
Ideally, you want to socialize your puppy before they reach 20 weeks old. This will ensure that your pup will be open and willing to meet new people and canines before they begin to develop any reactive behavior.
3. Do some learning of your own
Dogs have their own special way of learning and exploring the world, so we can't train a puppy until we understand how a puppy learns best!
Do a little bit of research on the canine learning theory.
By learning more about canine behavior, you can become familiar with how your Coton de Tulear puppy learns:
How they learn from you
How they learn from other dogs
Positive reinforcement
And standard conditioning
4. Take note of your Coton de Tulear puppy's calming signals
What exactly are calming signals? Well, they are your dog's unique way to let you know that a situation may be too intense and is in need of some "calming down."
By learning about these specific body language skills that your pup possesses, you will be able to better read how your dog is accessing a situation and respond accordingly.
5. Don't be pushy when command training
With basic command training, practice does make perfect and repetition is key, unless you are repeating the command over and over again.
Why? Repeating the command over and over again is not making the lesson any easier to learn!
Instead, try saying the command and giving some direction (especially when just starting out). If you remain consistent in saying the command and showing them the action the command is associated with, you and your pup will find training much easier!
6. Support their endless exploration
Puppies learn through experiences, and their curiosity and energetic nature allow for that to happen—easily. Now, it's time for you to help!
Coton de Tulear puppies are fearless and ready for adventure, until the vacuum or your blow-dryer catch them off guard. Instead of forcing them to deal with the "new, scary thing" on their own, introduce them to that experience in a more positive way.
Let them approach these items at their own pace, perhaps with treats involved, and you'll find that your pup won't be so scared when you go to do your hair every morning.
7. Nipping at you means it's time to play
If you don't already know, puppies are notoriously energetic and require a fair amount of attention and exercise.
However, what many people don't know is how to deal with a puppy tugging on clothes or growling at them.
What you're reading as aggressive behavior is just your puppy wanting to play!
8. Lessen playful biting with a toy
That energy is just overflowing in your pup and sometimes playing can come with nipping.
Simply have a big enough toy handy that fits in your puppy's mouth comfortably, allowing their to playfully bite her favorite toy, not their favorite human.
Training a Coton de Tulear puppy will take time and patience, but with these tips in mind, you shouldn't have any problem, especially when you work with Family Puppies.
As well-known Coton de Tulear breeders in Indiana, we take care of our pups, socializing them and working on their skills until they're ready for their new owner—that's you!
For any puppy advice or a look into the Coton de Tulear puppies for sale in Indiana, give the Family Puppies team a call at 574-354-2428 today!